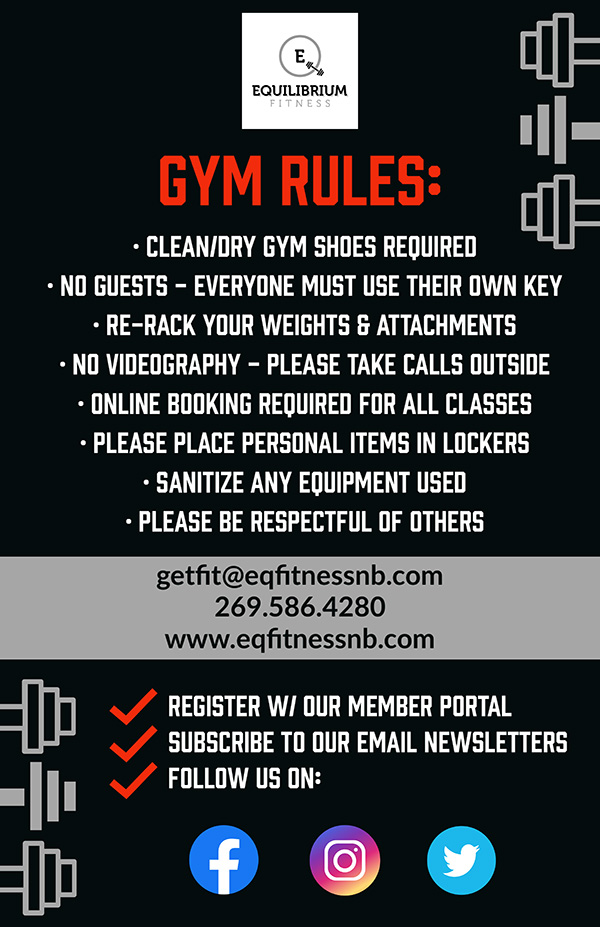 Gym Rules & COVID-19 Precautions – Updated 2023:
Please do NOT come into our Facilities if you are sick, have any symptoms, or have been exposed to COVID-19. Please follow all CDC and BCHD Guidelines for Quarantine/Isolation.
We have Hand Sanitizer Dispensers by every entry door.
Please do your best to Social Distance.
Please limit your personal belongings. Complimentary Lockable Lockers/Cubbies are available for use while in our facilities.
We use an EPA registered Cleaning Mist Weekly on all surfaces, we have installed more Gym Wipe Stations in all our facilities, and we ask that you continue to wipe your equipment off AFTER each use.
We have upgraded all our HVAC Systems in our Facilities w/ HEPA Filters and iWaves. The iWaves use ion technology to kill bacteria, mold, and viruses, and are highly effective against SARS-CoV-2, which causes COVID-19.
And we open doors and windows as much as possible to allow for fresh air to be circulated throughout our facilities.
Online Registration is still required for ALL Classes (we will no longer accept walk-ins), we will hold some Summer Classes outside (weather permitting), and all participants will be spaced out, shared equipment will be limited, and extra time will be allotted for any sanitizing or breaks.
We are also continuing to do our Contact Tracing for anyone that enters any of our facilities. Please provide your full name and phone number for all Appointments.
Members are still NOT allowed to bring Guests w/ them. All Members need to use their own key cards to access our facilities and for Contact Tracing. Please do not hold the door for others or let anyone in, thank you!
All Employees and Instructors are screened prior to every shift and class. Staff are not allowed in our facilities if they are sick, have any symptoms, or have been exposed to anyone w/ COVID-19.
All of our Certified Personal Trainers and Group Fitness Instructors are Fully Vaccinated as well!
We thank you for your willingness to help us combat these challenging times. We are extremely grateful for the opportunity to continue to safely serve you in all your health and wellness needs. Be well!
-EQ Fitness Team