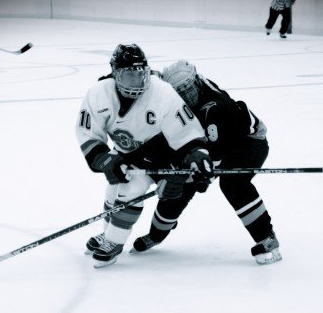 Katie Maroney, Owner, MS, NASM-CPT, Precision Nutrition Level 1 & 2, Mad Dogg Athletics®/Spinning® Level 1
Katie is originally from New Buffalo, Michigan. Katie grew up playing many sports, and played Division I ice hockey for Ohio State University. Katie earned her Masters in Exercise Science and Health Promotion from California University of Pennsylvania in 2010, and has been a NASM-CPT (National Academy of Sports Medicine – Certified Personal Trainer) since graduating from CalUPA. Katie specializes in one on one and group/team training, and has over 10 years experience coaching youth, AAA, and High School Ice Hockey. Katie is a certified Spinning Instructor through Mad Dogg Athletics®/Spinning®, and is also enrolled in Precision Nutrition Level 1 and 2.
"Train like an Athlete, Live like a Champion" – Katie Maroney
---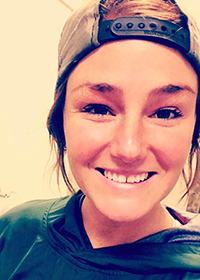 Emma Kautzky – Manager, Personal Trainer, & Group Fitness Instructor
Emma grew up in Three Oaks, Michigan and now resides in Michigan City, Indiana.  She has been a Manager at Equilibrium Fitness since May 2018, and is studying to become a Certified Personal Trainer and Group Fitness Instructor.  While attending Lake Michigan College to study Nutrition, she played volleyball and softball.  Sports have always been a big part of her life and she still continues to play softball around the community. Creating a healthy body and mindset has always been two of her passions, and she's so excited to be able to help others achieve their goals!  Fun Fact: She has a mild obsession with Fanny Packs, she has 17 and counting!
---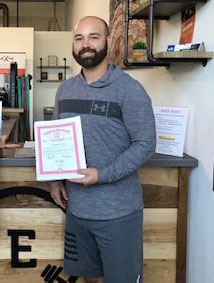 Jordan McGuire – Manager, Personal Trainer, & Group Fitness Instructor
Jordan is originally from Buchanan, Michigan, and played a variety of sports growing up including Tennis and Soccer. He takes pride in working with his Training Clients, and is a motivating Group Instructor. He loves to fish and kayak, and has recently started playing Ice Hockey.
---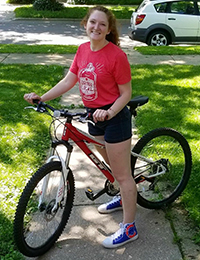 Abby Voss – Spin & Group Fitness Instructor
A small-town girl living her best life by the beach. Appreciator of all music, especially when she can turn it into a food or Chicago Cubs-based theme. When not on the bike, you can catch her slinging adult beverages at The False Front. She can tell you where to find the best grub in every Michiana town, and you can likely find her munching on pizza at Patellie's.
---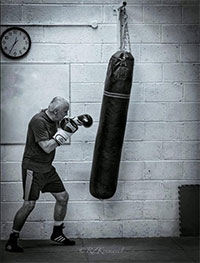 Dennis Boyle – Boxing Instructor
Dennis spent most of his working career in Chicago. Living mostly in the city he worked for a number of advertising and marketing agencies. Retiring in 2015, he and his wife Dawn moved to Ireland where he taught boxing for two years. Returning to the Midwest he now resides in New Buffalo and has been teaching Boxing at our Three Oaks location.
---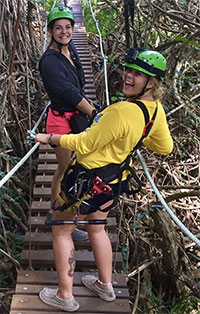 Jordin Drewes – Membership Coordinator
Jordin is a 5th generation New Buffalo local. You may recognize Jordin from one of her other many jobs, flipping burgers, making coffee or directing beach traffic! Now she's with us for the long haul. She played softball and volleyball back in high school and helped start a volleyball program in college. Favorite sport to watch and play is football. Go pack go!
---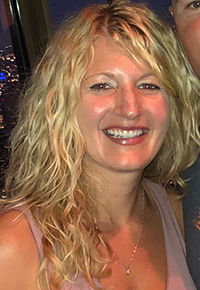 Nicole Bowen – Spin & Group Fitness Instructor
Nicole is a health and physical education teacher at New Buffalo Middle/High School. She has been teaching in the schools for 12 years. The first three years were in Special Education. She is also a Certified First Aid, CPR, AED Instructor. In addition to all of this, Nicole has been teaching Group Fitness Classes and Spinning for over 15 years. She is certified through Schwinn. Nicole has been married to her husband, Adam, for 12 years and they have three children: Drew, Mazzie, and Alexandra. Nicole has a passion for health and fitness and she hopes to spread her love through teaching.
---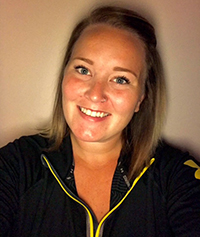 Maddie Boersma – Front Desk Attendant & Membership Coordinator
Maddie grew up in Three Oaks, Michigan. After playing College Softball and Coaching High School Softball she believes fitness should be a lifelong process and not just a temporary fix. She has always been an athlete and continues to stay active in sports, but after becoming a mother of 3 she needed to focus on her own fitness a lot more. She met with a personal trainer from a gym and found what really worked for her. Her future goal is to become a Personal Trainer/ Fitness Coach and share her motivation with others to achieve their goals.
The biggest thing that keeps her going when she feels like quitting is remembering why she started.